Steele Minds: The Engineer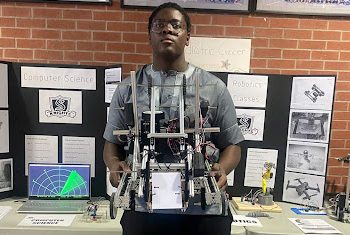 Senior Oluwatobi (Tobi) Tomogun can't remember what got him interested in robotics.  All he knows is he loves it. He's been doing it since 6th grade, building over 20 robots in the years since. 
"I get to build stuff, which I enjoy a lot," he said. "No one can tell me what I can and cannot build, so it's nice."
Right now, he's in a robotics class and the robotics club here at school, where he's a self-described "team captain." 
"We build arenas, different robots, specifically Vex and FTC robots," Tobi explained. "Essentially, a lot of robot building, arena building, testing robots, coding, very enjoyable."
Building a robot doesn't take too long.
"Just to build it, I would say it takes two days, if you're really using class time," Tobi described. "But it takes a lot longer to fine tune it, code it, make sure everything works fine, it's not just falling apart. It takes, in total, around a month to make sure everything's working and fixed up."
He spends around 8-10 hours a week working on the robots. There are two kinds they build in the club, Vex and FTC.
"Vex annoys me very much because it decides not to work half the time," Tobi joked. "FTC is enjoyable. I wish the chains were a little bit tighter."
Coding is an integral part of robotics.
"You can pretty much use any coding software. We use Java mainly, so kind of just bring it up on a computer, code what we need, and then we upload it to the robot through a USB," he described. "Vex uses Python, but FTC uses Java. Depending on what you're building, you want to code for something different. You're not gonna want to build something to flap that doesn't have any wings."
While he may not want his robots to fly, there are certain tasks they must be able to do for competitions, which the robotics club is entering for the first time this year. 
"For FTC, it's stacking cups," Tobi explained. "You have different rods, different heights, and your robot's going to have to pick up cups, put them on rods, then keep on going. The rods are small, medium, and large, so your robot's arms have to extend a certain distance to put it on there. Vex is Frisbee golf, but with robots."
Even though the club has built 5 robots, Tobi still has a sentimental attachment to their very first one, Godder.
"It doesn't really do much," he admitted. "Its original purpose was to move quickly and be able to lift stuff with the crane in front of its face. But it was the first robot we built last year, and it wasn't very well done, so it kind of just drops nuts and bolts everywhere, and the code just dies half the time, but we love Godder."
Most members of the robotics club are seniors, and Tobi hopes new members will pick up the torch and keep it running. For his future, Tobi plans on attending either Rice University or UT Austin to study electrical engineering.