Danish Not Dutch
During an international tour of Texas, 70 Danish college students chose Steele to experience American high school culture.
I sat down with three of those students to discover the differences in their culture and ours and how their Texas experience has been so far.
Magnus Roland Hansen, Mie Lund, and Jakob Krüger Kristensen had a lot in common. They were all students at Vejen Business College, a school nestled in the town of Vejen in southern Denmark. They were all 19. And they, along with the rest of their peers, were noticeably tall, wearing white, and sticking out like sore thumbs.
"Kind of weird going through all the students in the morning when they were in the courtyard," Hansen said. "When everyone looked at us like we were some monkeys in a cage."
Their peculiar outfits may have seemed cult-y to some Steele students, but there was a much sweeter explanation.
"We thought that you guys wore uniforms," Kristensen explained.
"We were really afraid to go against [the dress code]," Lund admitted.
"Our teachers said we should be wearing long pants, the boys, and we couldn't show our tattoos," Hansen added. "That's perhaps also just to [look] friendly."
Friday marks the 7th day of their 12-day trip through Texas, where they plan to hit all the major cities. So far, they've been to the NASA Space Center in Houston and strolled the Riverwalk in San Antonio. They've even visited a shooting range. Their stop at Steele is a chance for them to experience an American high school.
Our culinary students started the Danes' day on the right track, serving them a breakfast of huevos rancheros, refried beans, corn tortillas and fruit parfait.
"The food was amazing," Hansen complimented. "I would eat it again if I could."
I met them afterwards in Ms. Mahoney's room, where we discussed cultural differences.
"In high school, they teach us about your culture and your school," Kristensen explained.
"We learn about what is normal and abnormal," Hansen chimed in. "Like in Denmark, it's not normal that you call your teacher by her last name, like Ms. Mahoney. In Denmark, it's just her name. You're very equal with the teacher."
Other differences included activities. They were especially impressed with Steele's band, who performed for them on the field.
"We were out on the football field and you had all those instruments and the big band," Hansen said. "You'd never see that in Denmark. In our school there's only 350 students, so not a big school."
"It's crazy to think that you can get that many people together to do that," Kristensen added.
They were particularly excited about the football game against Lake Travis, which they attended along with their classmates.
"We're looking forward to seeing the [band] play and how much you cheer each other up," Hansen said.
"We like the sports," Kristensen agreed.
"It's very cool," Hansen admired. "Something to respect."
In Denmark, sports are a lot smaller and much friendlier.
"We kind of have a soccer and a handball team who plays against the closest school," Lund explained.
"It's just a game that you play and then you just pick on each other, like 'hey, we won'," Hansen added. "And then we go out partying together afterwards."
Speaking of partying, the Danish also like to have a good time, in a way many Americans would find odd.
"We start drinking alcohol at a pretty young age, so we do what's called 'Friday Bars'," Kristensen explained. "Where, like once a month, there's this get-together after school where we hang out."
"When we are free at 2 p.m., we just throw our bags down and then we go drinking," Hansen shared.
They drink a lot too. Really any day they get an excuse to, according to Hansen.
"Thursday is like a small Friday, so that's an excuse," Hansen joked. "Friday is Friday and then Saturday is Saturday."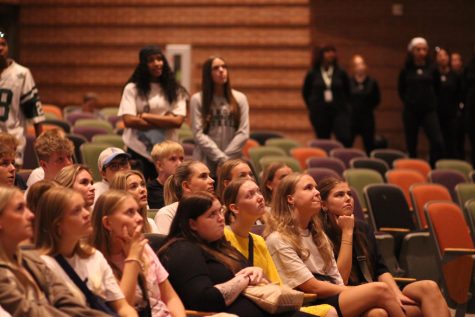 Overall, their experience in Texas was both expected and unexpected.
"[Weather] was expected," Kristensen said. "But it always hits you when you get off the plane."
The students also expressed their surprise at not witnessing stereotypical Texas. When I asked what they thought Texas would be like, Kristensen offered up "cowboy hats, guns, and ranges" while Lund threw in "Longhorns and buffaloes."
However, they don't forget to mention the kindness they've encountered while here.
"Everyone wants to talk," Lund laughed.
"That's crazy," Kristensen elaborated. "Like everyone in the street. Some people can stop you and be like, 'Where are you from?'"
"Everyone is so happy," Hansen added. "They're smiling and saying hello and waving. I would 100 percent come back."