The Midas Touch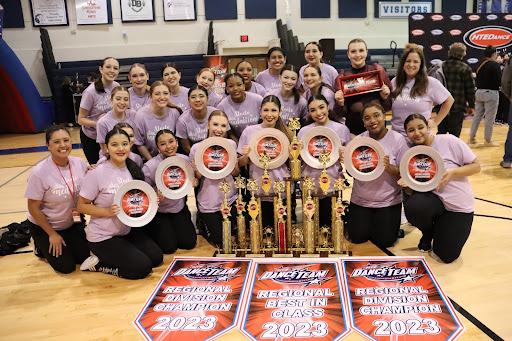 Last Saturday, Varsity Dance, better known as the Medallions, brought months of hard work to the stage and scored big, taking home a total of 19 awards. The HTEDance competition in New Braunfels had the dancers there from morning to evening with nine performances in between.
"Our competition is a way for us to compete with our dances and go against other teams. It also gives us the opportunity to see other teams and their dances," senior dance officer, Colonel Lyna Gonzalez said. "Officer routines went first, which is just the four officers performing. After that we performed our team routines and solos and duets. It's an amazing opportunity for us to bond as a team and appreciate all the hard work we put into these performances."
Some of the events they placed first in include Team Pom, Team Field, Team Contemporary, Officer Jazz, Officer Lyrical, and Officer Novelty among many others. They also achieved Sweepstakes, meaning they earned a score of 90-95 and Super Sweepstakes which is 95 or higher.This is especially a sentimental feat for the officers, where three of the four are seniors. 
"It was kind of bittersweet. Sitting there, you kind of just realize you've taken things for granted, like last year," said senior dance officer, Major Amaya Roberts. "You're like 'ugh this is taking so long!' and then as you're sitting there on the floor and they're calling you out, it's 'oh my god this is my last one ever, that's crazy.' It's just bittersweet."
The competition had six major schools among the competitors as well as teams from the area that aren't school associated. This makes their achievement even more exciting, and the energy high throughout the day. 
"Being at competition was very nerve-racking, but it was also such a memorable moment with our team, which made it all worth it," said junior dance officer, Lieutenant Colonel Samantha Fain. "We were extremely proud to receive all these awards. We put in hours of practice for this competition, and it's so exciting to see all our work pay off."
After the performances took place, each team gathered in one large room for the awards ceremony. 
"The highlight of the competition for me was awards because they played music and we all just danced and laughed together," said Gonzalez. "We had already performed all our routines, so that weight was lifted off our chest and we were all proud of ourselves."
When asked about another highlight of the night, senior dance officer, Major Kylie Deater had a different take. 
"Performing. Whenever you're in the moment, it's just very incredible and I feel like it's just this energizing moment and you can't think about anything else except for what you're doing. That's my favorite part," said Deater.
Although one of their biggest victories yet, the Medallions are far from done. They have one production left on April 28. It's their Spring show where they'll put their talents on full display. 
"It was great winning Super Sweepstakes and Sweepstakes," said Gonzalez. "We worked so hard as a team to accomplish our best and I'm very proud of us."