Steele Minds: The Chef
This week, we introduce you to talented senior Trey Petty, whose specialty is in the kitchen. Currently, he works as a cook at Mako's On The Creek, a restaurant that, according to their website, "offers a thoughtfully curated flavorful New American menu."
He's proud of his work.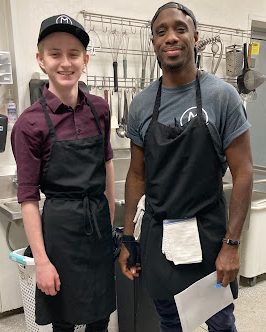 "It's mainly cook to order. We don't use any frozen ingredients," Trey stated. "We don't need to use microwaves. We don't need to prep food by reheating it. Everything that we do is fresh, and I think that's what makes it a really nice place to work at. That's the type of cooking that we do."
His love for cooking probably started when "I was like 7 or 8, when I made my first egg or something like that."
Throughout his life, Trey has had many inspirations. He deeply respects the head chef at work, Chef Ky, who he praises as "leagues above me. He even had his own Chopped episode." He also remembers neighbors and family friends who went above and beyond in their own homes.
"I remember this one person named Rod," he explained. "He would always have everybody over watching NASCAR and placing bets, and what he would do beforehand is he would create this entire buffet for all the people that would come there, and it was just absolutely delicious, despite it being homestyle. That was kind of an inspiration to me, that cooking can make people happy."
Another influence is a family friend, Ms. Jodie.
"For Thanksgiving, we'd always come to her house and the turkey, the beef wellington, the size, the dishes and everything – all of that would be by her and her husband," Trey remembered fondly. "And it was always so magnificent every single time. It's a great inspiration to me. I even went there last year to make the cranberry sauce and a pie. So it was really nice."
His freshman year, he decided to take Intro to Culinary Arts, and he's followed the program all four years.
Trey prefers baking, and likes making lemon bars because they're "quick and easy," and he's always wanted to make key lime pie, his favorite dessert. 
However, to him the hardest dish to bake is crème brûlée. 
"The torching part is probably the easiest part because all you have to do is put the sugar on and turn the torch on," Trey described. "Then there's stuff like the custard itself. You have to start with tempering the eggs. If you don't do that right, you end up scrambling them on accident, and you start getting this super lumpy gross looking custard that you can't use. I've made crème brûlée three or four times in my life, and I've scrambled it once. It's so hard to get that consistency down."
While there are hard and easy dishes, Trey doesn't believe there are good and bad ones. 
"I say you've got to at least go into making a dish with heart and mind," he explained. "Everything I make, I either do it because I like to do it, or I do it because I know that it's being served, so if someone asks for it, they've gotta like it."
Trey plans to attend the University of Houston, earn a hospitality degree, and pursue his passion as a career.