Connected but Completely Alone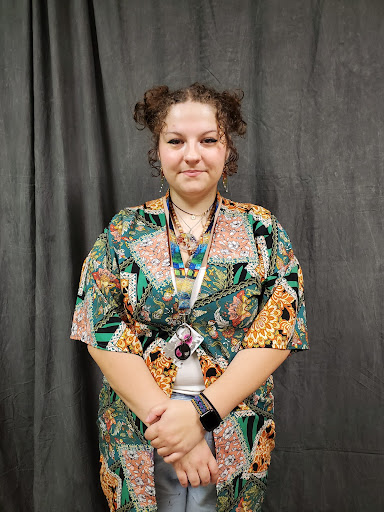 The summer of 2021, I watched movers sweat under the sweltering Oklahoma sun, lifting heavy cardboard boxes back and forth from the swinging front doors of my creaky old house to the back of the moving truck. The grass crunched under their feet, a slightly yellow hue, and large wasps buzzed in and out of the screen door. Standing there, I felt strange. It was the same feeling I always had before a move: a bizarre mix of sadness, hope, and acceptance. When I climbed in the car and drove away, heading for my 10th home in 16 years, I didn't cry. 
For as long as I can remember, I've been alone. Schools and friends have come and gone, and my brothers left home seven years ago. Loneliness is a part of me. It's something I can't shake, no matter who I'm with or where I go. I've come to believe it's a staple of the military child experience. 
Here at Steele, our campus is full of military-connected students. We hang paper stars and posters during April, and our school proudly boasts of our Purple Star Campus Designation. But do we really know or understand what the children of our service members go through?
Before winter break, I met with four military-connected students of all grade levels, and their input was telling.
First things first. When I asked how many places they'd lived, they responded in the way only a military kid would. The fingers came up and the reciting began.
"I was born in California, on Camp Pendleton," junior Jasmine Lugan said. "Then we moved to Okinawa, Japan, and then we moved to England, then Texas."
Freshman Joselyn Leiva's journey kept her stateside. "I was born in Idaho, then I moved to Altus, Oklahoma. Then we moved to Las Vegas, Nevada. Then we moved to Schertz, Texas. Then we moved to Fairfield, California, then back here."
The military child experience is defined by a cycle of new surroundings. New homes, new schools, new faces. Making and losing friends is simply a part of the cycle, a difficult task that gets even more difficult the older you get. 
"When I was young, I just talked to everybody and anybody," senior Addyson Bowersock described. "Everyone wants to be friends with everyone when you're young, but then once you get older, there are certain groups that you stay with. You make friends so much easier when you're younger because nobody cares about anything. It was like, 'Oh, you like my shoes? I like yours! Let's be best friends!' But now it's like you have to actually talk to people and you have to have genuine conversations." 
Even so, Addyson's outgoing personality makes it a little bit easier for her to make friends wherever she goes.
But all four of them found their most recent move especially painful. 
"I usually make friends easier, but when I moved here I struggled a lot," Joselyn admitted. "Last year, (at Dobie Junior High) I would literally sit in the bathroom for lunch. At my old school I just felt more comfortable, but when I came here I didn't feel really welcome and people were so judgy."
Sophomore Andrea Hayes, who moved in the middle of last year, agrees. 
"I struggled a lot last year. I failed two classes. Texas was way ahead of my former school," she explained. "I spent a lot of days crying last year over grades, not having friends, wanting to go back to the place I love the most, which is Virginia. My mental health was terrible. At one point I wanted to die."
This pain was amplified by a perceived lack of support. 
"This school didn't make any effort to try to get me to fit in," Andrea said. "When I moved here, I thought no one was going to like me. I changed everything about me. My music tastes. I stopped dressing up. I changed my slang to fit in."
"I don't feel like I've been supported at any of my schools," Joselyn admitted. 
However, Addyson believes "the military feel here is very prominent," acknowledging Mr. Williamson and his work with military students.
"I will say their communication with newer seniors has been off," she admitted. "In the sense of saying they have resources, they say they do. Too much don't act on it, but it's there. I felt it, but I haven't involved myself in it."
The lack of support for some stretches to the home. 
"Last year, I was literally crying all the time," Joselyn described. "I got bullied a lot, and I was struggling, and I knew my mom was gonna judge. I wanted to talk to somebody, but I felt like I couldn't. I didn't have friends at the time, so I would be by myself in my room, and [my parents] would be like, 'Why are you isolating?'"
"Our parents don't understand," Jasmine said.  "I feel like all they try to do is treat us like part of the military. Sure, I would love to travel to so many places. But I would also like stability. I would also love to be in one place with my family. I would also love to hang out with my cousins. I would love to call a place home. My mom says, 'Wherever we are is home.' But I don't feel welcome when I go 'home.'" 
"I think sometimes we blame the military for our problems, too," Jasmine added.  "The emotions overtake you. You get so angry. At your parent who joined, who signed the papers, who made the choice to move your family there and back and there and back- all these different places, and it feels like your life is over, like you're kind of numb, and you're being put in a box and shipped off to all these places."
This sentiment came up a lot, especially when they were posed a difficult question. If you could only use 3-4 words to describe a military child, what would those words be?
"Strong, resilient, open-minded, and adventurous," were the words Addyson used. "I feel like we're so used to that lifestyle, it's kind of in our blood," she laughed. 
 "Heartbreak," Andrea came up with. "Tiredness maybe, because you get tired of it all."
Jasmine started out with "sacrifice" and "hardship" and ended on "A box."
"We live basically in a cardboard box," she explained. "My feelings, my emotions, they're always ready to go, because I know I'm going to say hi and goodbye when I come to a place."
For her, moving is almost like an addiction. 
"I think part of the routine of moving from place to place kind of gets you hooked, to be honest," Jasmine said. "Because when I have a problem, the first thing I think of is running away. I had problems at school, but I would just leave. It was the easiest solution. I want to move again, and I think part of the military kid experience is instability, in that we never really find a place to call home, and we never really find a routine to stay in one place."
Moving does come with a fun bonus. Travel. 
"Traveling is the best part," Jasmine described. "When I turned 14, I hit the mark of visiting 20 countries. So I've been everywhere, and it's nice to travel and experience different cultures."
Both her and Addyson spent time in Japan, and the senior agrees wholeheartedly with the benefits of travel. 
"Seeing new places. That was definitely my favorite part about Japan. Seeing a whole new culture. Experiencing the area for the first time," Addyson enthused.  "Japan itself, there's so much to explore. We were in the northern part of it, so there was a lot of wintery stuff, and we did go to Osaka because there was Japan Universal Studios. In Illinois we were near Saint Louis, so we got to experience it a lot, and that was really nice. I love the city so much. It's just experiencing so much more than what you would if you weren't a military child, and that includes people and places."
But while travel may be a fun part of the journey, it's often not enough to even out the scales of struggle, especially when you toss in the added weight of deployments and parental absence. 
"My dad's been deployed three times. I was young. I was a daddy's girl, so it was such a struggle," Joselyn said.  "And my brother had just been born, so we were really struggling. We were in Las Vegas, so we had no family nearby. And my mom was in Afghanistan two years ago just before it got really bad. She was gone for a good six months. It was scary because I didn't know if I was going to see her again. I really hate that part of the military."
"My dad was deployed when I was born. He wasn't there," Jasmine said. "It's crazy how us military teens go through so much, and then they just put a cherry on top, and send our parents away."
Andrea empathizes with their struggle.
"Your dad is deploying somewhere you don't know," she explained. "You don't know what's happening, and the fact he could end up shot, dead, disabled, can't walk. That stuff is scary."
Except for Jasmine, whose parents are planning on moving again, all of them are finishing out high school here.
Joselyn is having a hard time adjusting to that fact. 
"This is my last move. It's supposed to feel like home but it doesn't," she admitted. "I was in California from 4th grade to halfway through 8th grade. Everyone got along there. My dad always told me not to get too attached, but I did, and I wasn't ready to leave. It would make me so emotional. I was always crying."
Luckily, she's made friends this year, a lot of them also military kids from California. 
Andrea is also doing better this year, and has made friends too. 
"Now, it's getting better. I'm happier now," she explained. "For me, all the friends I've made are in AJROTC. This year, I decided to put myself out there but not be annoying about it, so I made friends and they introduced me to their friends. In AJROTC, I have no choice. We all have to interact with each other. Especially because mine goes into Knighttime."
Addyson encourages all students to be more open, and to take care of their military-connected peers.
"New kids aren't scary, we're just trying to do our best," she said. "They probably have a lot of stories to tell."
For military kids themselves, she has some different advice.
"Go to new places, meet new people, make the most out of every base/place you go to," Addyson stated.  "I recommend talking to people about anything you feel, like a therapist, your parents, because it can be very overwhelming to move so often. Just be very open about your feelings and put yourself out there."
Jasmine hopes to help other military kids and get outsiders to understand the weight of the lifestyle.
"We sacrifice a normal childhood," she emphasized. "We sacrifice time with our family. We sacrifice our mental health."
Addyson thinks the lifestyle also has its benefits. 
"Being a military kid is pretty cool because we are very well rounded people," she described. "We're very outspoken, and it's cool. We get experiences that I'm very grateful for that a lot of other kids don't get."
For Joselyn, there is always a light at the end of the tunnel.
"My dad always told me 'Life is what you make it,'" she said. "So you can always be happy.
If you are a struggling military child, you can contact Military Student Specialist, Mr. Williamson, in the upstairs G gallery or your counselor. Military OneSource also offers connections to therapists.