To Mask or Not to Mask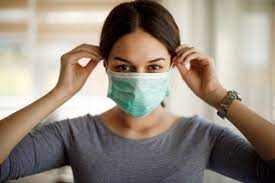 Beginning in December of 2019, COVID-19 began as shortness of breath and fever according to the CDC. Now, in 2022, we have a list of strands experienced over the 2 years and a new one, Omicron, recently added. In order to stop the rapid spread of this disease, masks should be a required adaptation to everyday life.
MAYO Clinic claims that "face masks combined with other preventive measures, such as getting vaccinated, frequent hand-washing and physical distancing, can help slow the spread of the virus that causes COVID-19."
Masks are a necessity, but they only work if everyone wears them together. The New York Times agrees with this, saying that masks work best when everyone in the room is wearing one because when an infected person wears a mask, the majority of what they exhale is trapped, and it stops the spread at its source. When fewer droplets of bacteria are floating around the room, the masks others are wearing would likely block any that have escaped.
In a poll conducted by the Steele Squire, 57 % of students believe everyone should wear masks.
"People need to wear their mask because it protects you and others as well as lessens the chance to get COVID," junior Nyla Mcpherson said. "The masks only protect you if you wear them right. If they are not covering your nose and mouth properly then there's really no point in wearing it."
With the recent increase in COVID-19, there has never been a better time to wear a mask. 18,000 new cases in Texas have been accounted for, according to The New York Times, between Feb. 6-7. SCUC ISD has had shortages in teachers and bus drivers due to the climb, impacting students and staff. COVID-19 is still prevalent in our area although it may seem as if it's been overcome.
"I think we should wear masks for the safety of ourselves and for others because it can prevent us from getting sick, and if we unknowingly have it, having a mask can help keep COVID from spreading," freshman Naki Nantawubwa said.
Together, we can stop the spread of COVID-19. Masks are a great first step that everyone can take, but it will only work if we all work together.
Mother Theresa said it best when she said, "I can do things you cannot, you can do things I cannot; together we can do great things."