Preparing for Post-Secondary Success
The pathway you choose to take after high school is completely up to you, but planning is incredibly important regardless of the direction you take.
If you intend on continuing your education at a college, university or technical school, there are several steps that can be taken today. At some point, you will have taken either a PSAT or SAT on-campus. It's always good to determine the best score range to earn based on where you are applying. Once you get the scores back, additional SAT attempts can be taken. The upcoming SAT registration dates are in the table below.

If you have taken the SAT and achieved your desired scores or have yet to reach that point, the ACT can be taken as an alternative or an addition to the scores you already have. Dates for the ACT are listed in the table below.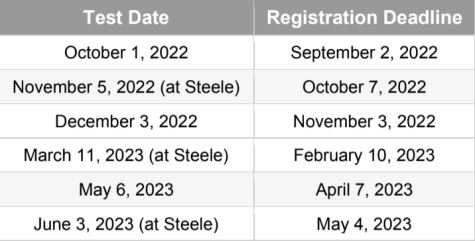 There are several components involved in completing applications, which can be done through the Common App website or through individual school sites. Some schools may require you to convert your GPA to a different scale and almost all schools will require you to send your transcripts and reports. All of which can be completed by clicking on the following links.     
GPA Conversion                NLC & UT Austin Transcripts                    Transcripts 
Letters of recommendation can be crucial to your admittance into a school. It's best to request letters from teachers, counselors, mentors or employers who know you and your achievements best. It can be helpful to create a resume for the recommender to reference in order for them to write a letter that best represents you. Make sure to give at least a two weeks notice at a convenient time before the letter is due. 
"They are important because it helps tell the story of the student in a way that test scores and transcripts cannot," Mrs. Barden informs. "They also help put the student and any achievements or adversities they have had in context and paint a better picture of the student." 
If you are planning to further your education after graduation, visiting schools, if possible, can be extremely useful. Visits can allow for you to gain more knowledge of the schools and see if the environments are a good fit for you. 
"College visits are essential. They're very informative and allow you to visit the campus and learn the ins and outs. They can make our break decisions, too! Sometimes you like the campus, sometimes you don't," senior Kylie Pavlovsky said.
Make sure to keep in touch with college admissions counselors and military recruiters if that's a direction that you plan on going in. These can be found through the college/university websites and military recruitment websites. 
Scholarships can be an important element in preparing for post-secondary options. Access to scholarships can be found through various scholarships websites or on the Going Merry website advertised by Mrs. Rountree. They can also be accessed on the Counselors' Corner through the school website. The main source of financial aid, the FAFSA, opens up on October 1st.
If you don't plan on continuing your education after high school, it may be time to start looking into alternative options. The ASVAB can be taken as a way to guide you in the right direction relative to jobs and careers. There are also additional resources that can be used when in search of a job.