Steele Minds: The Girl in the Red Dress
Part II: The Girl in the Red Dress
Senior Bonitta Evans (Bo) has a couple of unique hobbies. She's been sewing since she was in middle school.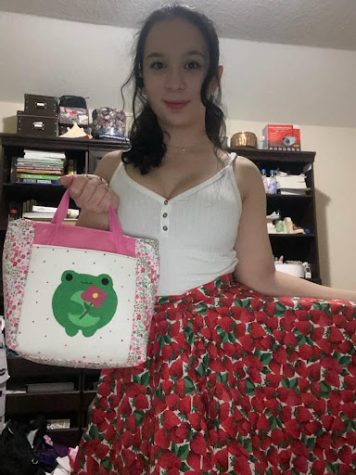 "I think I had to be about 12 years old when my grandma first taught me how to use a sewing machine," she remembered. "She started me off with a simple pattern and then I was like, 'Oh wow, I can make anything I want!' and that's where it grew from. The first thing we made was pajama pants."
Then it was a dress, and then skirts, and eventually Bo had moved on to creating clothing on her own. She's made around 20 articles of clothing since. Her specialty is skirts, specifically circle skirts.
"I like the super girly skirts and bows, so a lot of the clothing I make is around that," Bo said. "It's all very cute patterns and stuff like that. Circle skirts are my favorite. It's pretty much like a skirt that's made out of an entire circle, so when you cut it out, it comes out of a circle, so it makes the skirt really flowy."
Over the years, she's established a method to her work. 
"Normally, I start with an idea of what I want and then I find a pattern either online or one that I have," Bo explained. "It's pretty much finding your measurements from there and having the pattern fit that, and then going out to cutting everything, pinning it, ironing anything, and then off to sewing."
But making clothing is complicated and time consuming. 
"You need patience," Bo laughed. "A lot of it. And it's really just learning, so the better you get at it because you're learning and practicing, the easier it will be for you. I've gotten more into it as I've grown up and understand how everything works better so I make less mistakes than I did when I was younger, so it's easier for me to work." 
Currently, she's working on a red dress for a fashion design competition through the University of the Incarnate Word.
It's one of many projects Bo has ongoing, in both fashion design and her other hobby, cross-stitching, which she started a couple of years ago after a trip to Colorado with her mother.
"Right before Covid started, I went on a trip to see my mom's friend," she said. "We went to different thrift stores to find cross-stitch stuff, and that's when I really started cross-stitching."
Cross-stitching, in Bo's own words, is "using fabric and stitching little x's on it to create a design."
"I do it because it's a very mindless task and you can repeatedly stitch," Bo explained. "So it just calms me down and is really fun to do."
Like fashion design, cross-stitching takes patience and diligence. 
"Personally, a small one, if I'm stitching on it every single day or every other day, I can finish in about a week or two weeks," Bo described. "But anything bigger than that can take up to months, and I have some that I've been working on for years."
In fact, she has a "giant bin" of ongoing projects. She can often be seen quietly working on one in the courtyard or at lunch, threading her needle through one end of the fabric and out another. Right now, she has been making a small cross-stitch for every month. 
"I've done 8 out of the 12 so far," Bo claimed. "October is my favorite. Just because the ghosts and everything on it, the candy corn and the witch's hat are so cute, and I feel like it fits the month the best."
She plans to continue both fashion design and cross-stitching into college, and hopes to one day start her own business.