The Man Under the Stall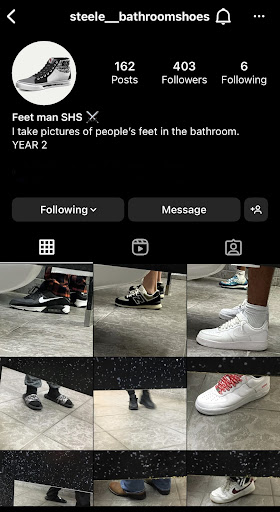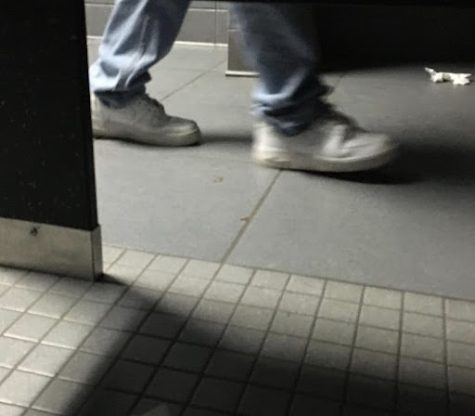 Looming in the depths of the boys bathroom is an unnoticed camera that brings a private moment to a very public Instagram post. The campus "Feet Man" is a force to be reckoned with, and no one knows when or how he strikes. Garnering over 400 followers, @steele__bathroomshoes has earned a name for himself. His name, however, has yet to be matched to a face, and the mysterious student remains anonymous.
"I think everyone knows this, but I'm a freshman," Feet Man said. "I started this account in 2020 at the end of the school year at Dobie, and it was going to be Dobie Bathroom Shoes, but I soon changed it due to the time it was started."
Feet Man has since uploaded 118 posts to the Instagram page, but not with ease. The Feet Man has hit various roadblocks running the page.
"Some of the challenges that I've faced on this account have been urgent, and not so urgent. Like one time there were all of these accounts that tried to copy my account, and they said that if I revealed my identity then they would stop," Feet Man said. "So I made a fake identity and bought a fake account. I would have to say that was the worst one out of all."
Despite having to overcome these setbacks, Feet Man has continued a steady output of posts. He has many ways he's able to get photos of peoples shoes.
"I don't normally have a time period that I take pictures. I just randomly go to the bathroom randomly throughout the day," Feet Man said. Only one man runs this account, but the pictures are sent in sometimes."
To avoid losing the fun in the chase for shoes, the Feet Man and friends have universally agreed to keep his identity anonymous.
"Being anonymous is very fun because the feeling of walking through a crowd of people and knowing that none of them know that you're the Feet Man is such a great feeling," Feet Man said.
The Feet Man has a plan, though, hoping to give students peace of mind by graduation in 2024.
"The only future goal I have for this account is for when I'm a senior," Feet Man said. "I'm revealing my identity publicly."