Unsung Heroes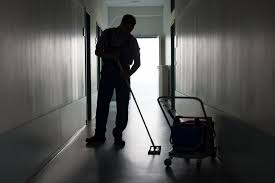 The stench spilled from the stall. The toilet water was murky, and a gutteral sound lurched from the pipes after each flush. It was clogged. A roll of toilet paper was stuffed in the tank, and plungers were useless against the enemy. The "Number Two" had to be cleaned by custodians; the toilet paper unclogged by their hands. The toilet stuffing bandit strikes mercilessly, but they aren't the only obstacle faced by the heroic custodians. One in particular, Rhonda Stokes, has her fair share of cleaning horror stories.
Stokes, as well as other custodians, have to clean classrooms, take out and pick up trash, sweep/mop the floors, clean the restrooms and disinfect surfaces. These tasks can be taxing especially since the district is experiencing a shortage of custodians. To be fully staffed, we need to have 21 custodians but currently have 11.
"It affects all of us, but we have teachers helping us out, and ROTC, and cheerleaders, so that helps," Stokes said.
The teachers in the Q-Wing have been doing their part by picking up. They've taken their trash out as well as worked to keep their classrooms clean. Robert Cisco, the associate principal, has seen a crew of kids voluntarily grab buckets and walk around the courtyard to pick up trash. They spend their lunch this way.
"I don't want an army of kids spending an inordinate amount of time picking up and spending their time like that. I'd rather them focus on academics, but if they could take two seconds to bend down and pick up a piece of trash, they've made a huge difference," Cisco said. "One person can't clean the entire campus, but with 2,600 kids and 200 teachers and a few custodians, we can keep our campus looking nice and presentable. At the end of the day we want you guys to have a safe environment to go to school to learn and to be a kid."
Besides the teaching staff and students, administrators have helped around the school as well. They handle more trash, pick up, and take on other tasks to make it easier for custodians. Cisco has given a hand in the effort and noticed how hard others have worked.
"Occasionally I'll take out my vacuum and vacuum my gallery area to make sure that's one last thing they have to do," Cisco said. "Sometimes at buses, once enough kids have left, if I notice a lot of trash in the courtyard, I pick it up."
Behind the decline in working custodians is the sudden increase in wages. The Judson district offers a much higher pay than SCUC, resulting in custodians moving to work there. Despite this, workers like Stokes have remained.
"I have to eat and pay my bills!" Stokes said. "I have one more year until I retire and I have been here for sixteen years, so I know what to do and probably no one else will hire me."
With the uncertainty of when the staff will be full, there are various things students can do. By lending a hand, everyone can work to keep their surroundings clean. Students can ease the workload of the current custodians by cleaning up small spills, picking up a piece of trash here and there and helping out friends when a mess is made. Stokes feels the same, hoping students can take accountability.
"Just try and pick up after themselves. If they drop something or spill something, call someone to get it up or if it's a little spill, pick it up themselves. You have no idea how many times I've been called for like 5 drops of water on the floor," Stokes said.
Appreciation for the custodians has been shown by the staff. Especially with the shortage, people have been more exposed to what custodians do and grown a bigger appreciation and understanding for them.
"The custodians that we have here, I love every last one of them," Cisco said. "They're so pleasant, they're good people, and I'm thankful we have them. I'd rather have the very few custodians we have then have any other custodian group or in any other district."