Meet the Knights
Meet the Knights kicked off Wednesday night on the football field, where fall sports and a new walk-through were unveiled.
The annual event, meant to showcase Steele's fall teams and their coaches, was packed with parents and students.
"It was amazing," Coach Smith, the football team's defensive coordinator and MC of the night, said. "It was probably one of the best turnouts we've had in the last 15 years."
However, Meet the Knights looked a little different this year than past years. For one, the school unveiled a new walk-through, a Knight wielding a sword, courtesy of donations from local businesses and Booster Club.
"I thought the new blowup was amazing," Coach Smith said. "The Booster Club and the businesses in our community really stepped up and supported us. We are very thankful for it."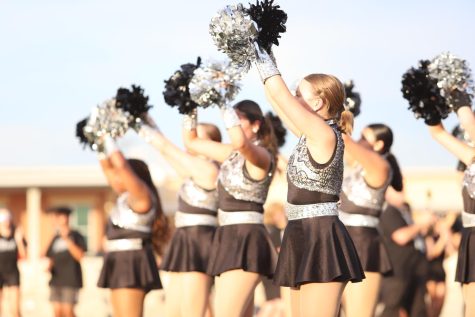 Ms. Ramos, an architecture and engineering teacher, also loved the blowup, and walked through it first alongside the other teachers as a special recognition for their hard work.
"It was impressive," Ms. Ramos said of the teachers taking the field first. "Especially after receiving the A rating from TEA."
Fall sports players entered the field after the teachers.
"It's always a fun deal and some of them do all kinds of flips and stuff," Coach Smith said. "And I just hold my breath hoping no one gets hurt."
Coach Smith was credited with his witty introductions to the coaches.
"I enjoy introducing the coaches," Coach Smith said. "I enjoy the crowd reaction. I enjoy it because we're pretty close knit and we have a lot of fun."
Sophomore dance officer Junissa Vaugh was near the walk-through.
"I was excited, because it was my first year as an officer," Vaugh said. "And I was excited to see how we all performed."
For many students, Meet the Knights started much earlier than the 7 p.m. start time.
"That whole week we were preparing with new stunts we made up," senior cheer captain Trissandra Lopez said. "It was just a lot of hard work and non-stop routines."
Freshman Kinsey Deason was in the band hall for 3 hours before taking the field. Deason, who's in both band and tennis, had an especially difficult time.
"It was exhausting and chaotic trying to get ready," Deason said. "The thing I was struggling with the most was that band and tennis were happening at the same time. And then I had to run from tennis all the way to the band."
However, she enjoyed her first Meet the Knights.
"It was fun," Deason said. "And it was a great experience for my freshman year of high school."
For Lopez, the night was more bittersweet.
"It was a good last 'hurrah', like our last Meet the Knights," Lopez said. "Because we hit all of our stunts, tumbling and everything."
For Ms. Ramos, running through the blow-up knight took her back in time.
"It took me way back," Ms. Ramos said. "Not that we ran through tunnels in soccer, but we would break through large pieces of paper."
Overall, the event was widely praised.
"When the band starts playing, I get kind of goosebumps and I get excited," Coach Smith said. "It's excitement. It lets us know the season's about to start."
Ms. Ramos agrees.
"It's just so exciting," Ms. Ramos said. "I mean, how do you not run out of a tunnel?"
Lopez enjoyed the feeling of camaraderie.
"My favorite part of the night was doing the school song," Lopez said. "Seeing everyone together with their Knight swords, it's just so exciting."
Stay tuned for another Meet the Knights for spring sports next semester!